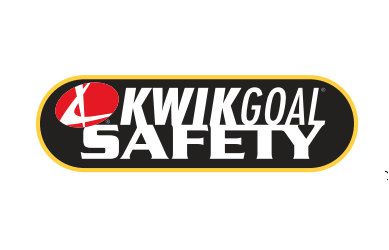 Kwik Goal Goal Safety Tips
PRE-MATCH SOCCER GOAL CHECKLIST
Are anchors in place and secured properly to the goal and ground surface?
If anchor bags are being used, are they in good condition?
Are anchor bags adequately filled with aggregate?
Are anchor bags placed over the base of the goal frames at the back corners?
Is all connecting hardware, such as nuts and bolts, in place and secure?
Has the structural integrity of the goal been compromised?
Are welds cracked?
Are corner joints secure?
Is the goal on a level surface?
Are the goal nets attached properly to the goal frame?
Do sharp edges exist in any part of the goal and net attachment system?
Do the nets have large holes or tears?
POST-MATCH SOCCER GOAL SUGGESTIONS
If goals are to remain in the upright position, make sure they are secured with cement based ground anchors or ground sleeves. If goals are anchored with portable style anchors, goals should be stored by being chained together face-to-face, chained to a permanent structure, or in some cases placed in a face down position.
Remove the net when the goal is not in use.
Make sure that all connecting hardware is in place and secure.
Check the structural integrity of the goal.
Never allow anyone to climb on the goals.
If goals are to be moved, exercise extreme caution and provide adequate manpower to move the goals.
Check condition of warning labels.
POST-SEASON SUGGESTIONS
When the soccer season is complete, consider fully disassembling goals and storing them in the proper facilities.